INDIVIDUAL PICTURE DATES September 6th District Pictures grades K-4 -11th September 7th Senior formals October 17th District wide Make-up or Retakes April 17th Senior Cap and Gown

ATTENTION EMERSON PARENTS Parents when dropping off students, please do not pass cars in line.  Please park in the parking lot across from elementary school if walking them to the door.  If you're going to drop off students, please have them ready to exit vehicle when its your turn.  Remember to drive cautiously for the safety of our students. Thank you.

COALGATE HIGH SCHOOL BLOOD DRIVE Tuesday, August 15. Please see attached flyer for more details.
HIGH SCHOOL SOFTALL GAME HAS BEEN CHANGED TO PLAY STRATFORD AT HOME 6:00 P.M.
2023-2024 Calendar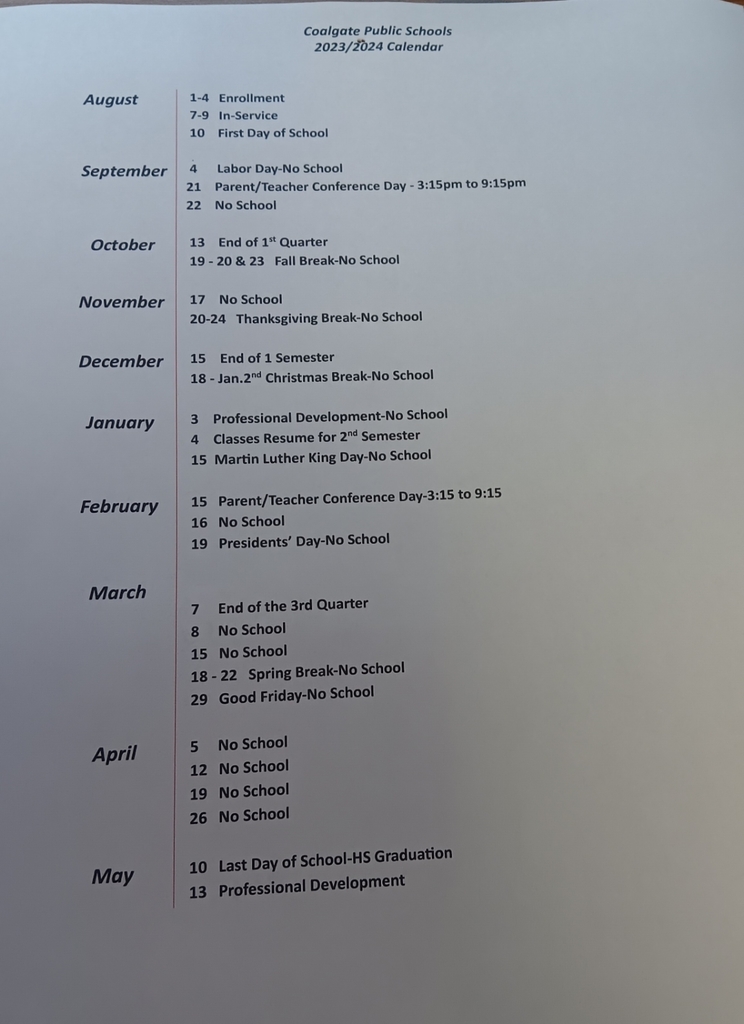 21st CENTURY AFTER SCHOOL PROGRAM We are pleased to announce the the 21st Century After School Program will begin on Monday, August 14th. The program will run from 3:30-5:00.

JOHNSON-O'MALLEY STUDENTS Concerning 2023-2024 School Supplies Parent/Guardian: Please purchase needed school supplies. Johnson-O'Malley will reimburse you for those supplies up to $30.00. A receipt needs to be taken to Karen Burris at Coalgate High School. If assistance is needed, please call 580-927-2351 ex 105.

ONLINE ENROLLMENT Online Enrollment Coalgate Public Schools Online Enrollment is available for RETURING STUDENTS ONLY. New students need to enroll IN PERSON at the appropriate site. There is information that is best communicated in person. In-Person enrollment will be open August 1-3 from 9:00 AM-3:00 PM at each respective building. If you have any questions, please call 580-927-2351 and select the extension of the appropriate site. Thank you. Returning Students K-12 Online enrollment will open for all Returning Students on Friday, July 21, 2023, and will continue until August 8, 2023. We strongly suggest that students be enrolled online at
https://ok.wengage.com/Coalgate
. For more detailed information, please use the following link. Unless you are very familiar with the online enrollment procedure, we highly recommend you read this document before proceeding. Thank you.
https://core-docs.s3.amazonaws.com/documents/asset/uploaded_file/2890/CPS/3299729/Online_Enrollment_Updated_Instructions_2023-24.pdf
JUNIOR HIGH SOFTBALL HAS STARTED PRACTICE THIS WEEK WITH COACH MATT BENEDICT AND COACH TREGG GOODSON, CONTACT THE SUPT.'S OFFICE FOR MORE INFOMATION IF INTERESTED. 580-927-2351 EXT. 107

For more information on Back to School information , including supply lists, please visit our website at
https://coalgatepsok.sites.thrillshare.com
. Select the Menu button and go to the page tilted Back to School Information. Select the link for information. Supply lists are listed below the page.
School Supplies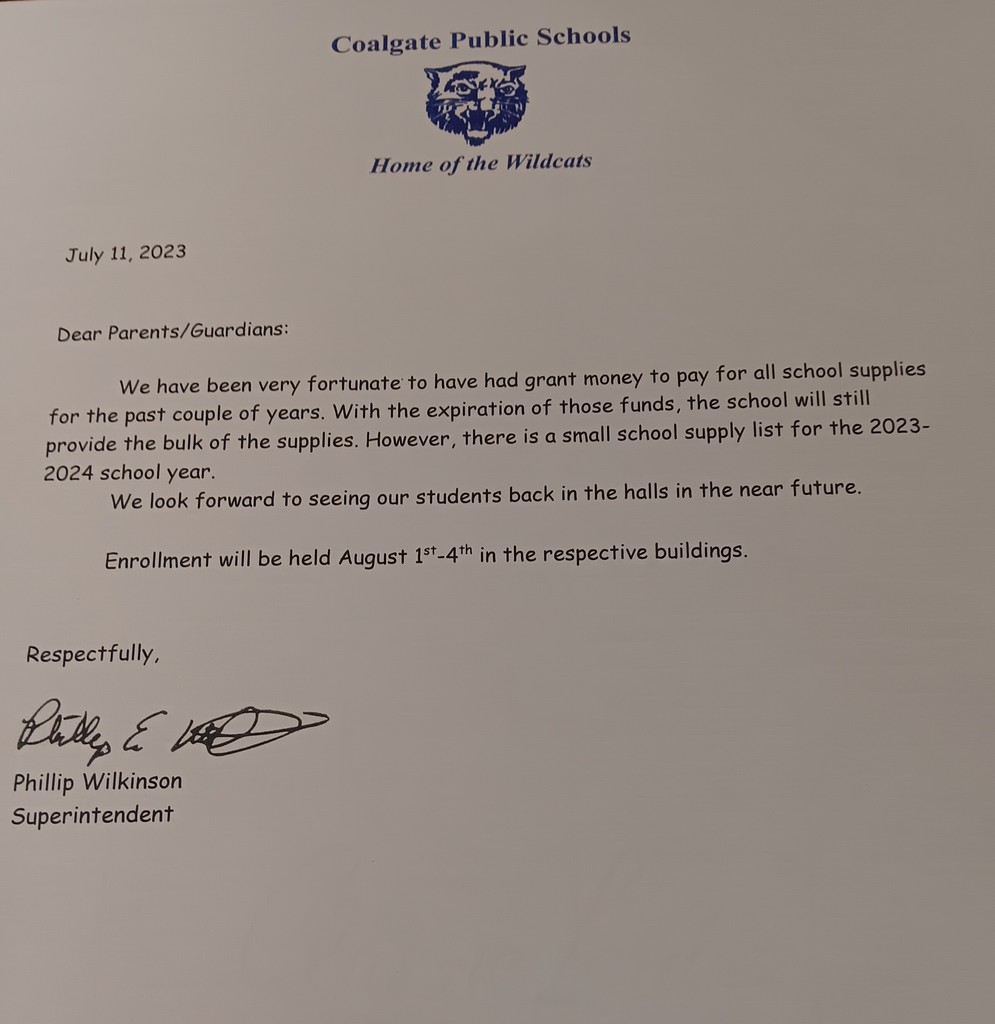 Indian Taco Fundraiser
Coalgate Schools: Athletic Physicals for Boys and Girls will be at Helton Clinic on July 7th from noon to 3:00 P.M. Cost is $5.00

Coalgate Schools: Athletic Physicals for Boys and Girls will be at Helton Clinic on July 7th from noon to 3:00 P.M. Cost is $5.00

WEATHER ALERT Coalgate Schools: possible severe weather tonight, the safe room will be open if necessary
possible severe weather tonight, the safe room will be open if necessary

SPECIAL THANKS Thank you to all the local businesses who donated gift certificates and prizes for our teacher appreciation week. We appreciate your support! Triple Heart Boutique Subway Gonzalez Mexican Restaurant Flower Garden Miranda's Bakery Bar and Grill Sonic Sonny'

SUMMER SCHOOL ANNOUNCEMENT There will be no summer school on May 29 due to its being Memorial Day. In addition, there will be no summer school on Thursday, June 1, because of teacher professional development.

SAYING GOODBYE Coalgate Public Schools saw three teachers retire at the end of the year. Cheryl Lawrence retired after teaching for 42 years. Connie Underwood, after 39 years. Milton Clonch (not pictured) also retired. We hope they will enjoy their retirement, and we thank them for all they have done for the school and our community.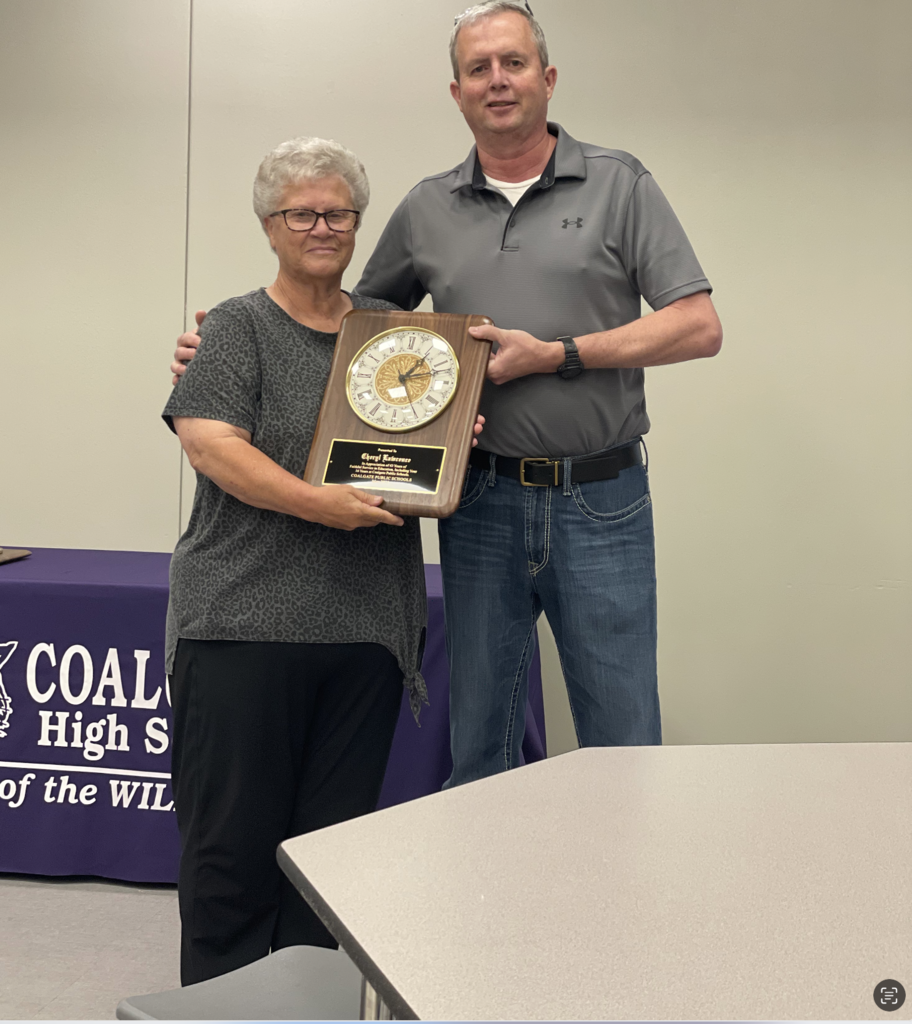 HS GRADUATION UPDATE Because of the weather, the HS graduation ceremony will be held at the Linton Gym at 7:30.