IMPORTANT ANNOUNCEMENT January 25, 2023 Coalgate Public Schools' Parents, Guardians, and Students, Coalgate Public School was made aware of a threat made toward students this evening. We immediately notified law enforcement and they began an investigation. After collaborating with law enforcement, a joint decision was made that school could safely resume tomorrow, January 26th. All parties known to be associated with this threat have been notified. Student safety is our top priority, so we wanted to be upfront about this situation. If more information becomes available, we will communicate with you again. As a reminder, by law, student disciplinary information is confidential and cannot be discussed. Sincerely, Jack Ward Superintendent

IMPORTANT! SCHOOL CLOSING Due to inclement weather, Coalgate Public School will be closed tomorrow, Wednesday, January 25th. Classes will resume on Thursday, January 26th weather permitting.

IMPORTANT NOTICE! Due to inclement weather, tonight's varsity basketball game at Tushka has been cancelled.

ATTENTION! TUSHKA TIME CHANGE The Varsity basketball games at Tuska tonight have been moved to 5:00. There will be no JV games. Keep safe as you travel tonight.

CONGRATULATIONS COALGATE WILDCATS The Coalgate Wildcat Boys' basketball team won the consolation game at the Mustang Winter Classic! Well done, Wildcats!! You make us proud.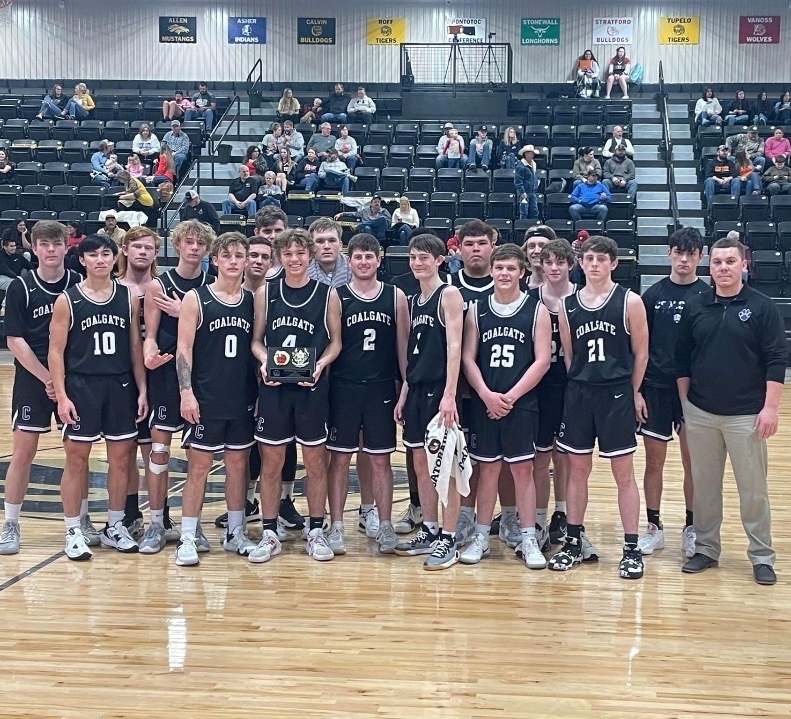 CONGRATULATIONS ACADEMIC TEAM We want to congratulate the Coalgate Academic Team for an outstanding performance. They are the Class 3A Area Runner-up. Well done! Thank you for representing Coalgate Schools so admirably. The team advances to the State Playoffs on January 28! Team members from Left to Right: Coach Jenifer Griffin, Raelyn Loudermilk, Jaydon Walters, AD Mauk, Peter Nguyen, Ridge Duncan, Rachel Prince, and Gage Williams. Not pictured are Laney Brown and Cheyanne Hudson.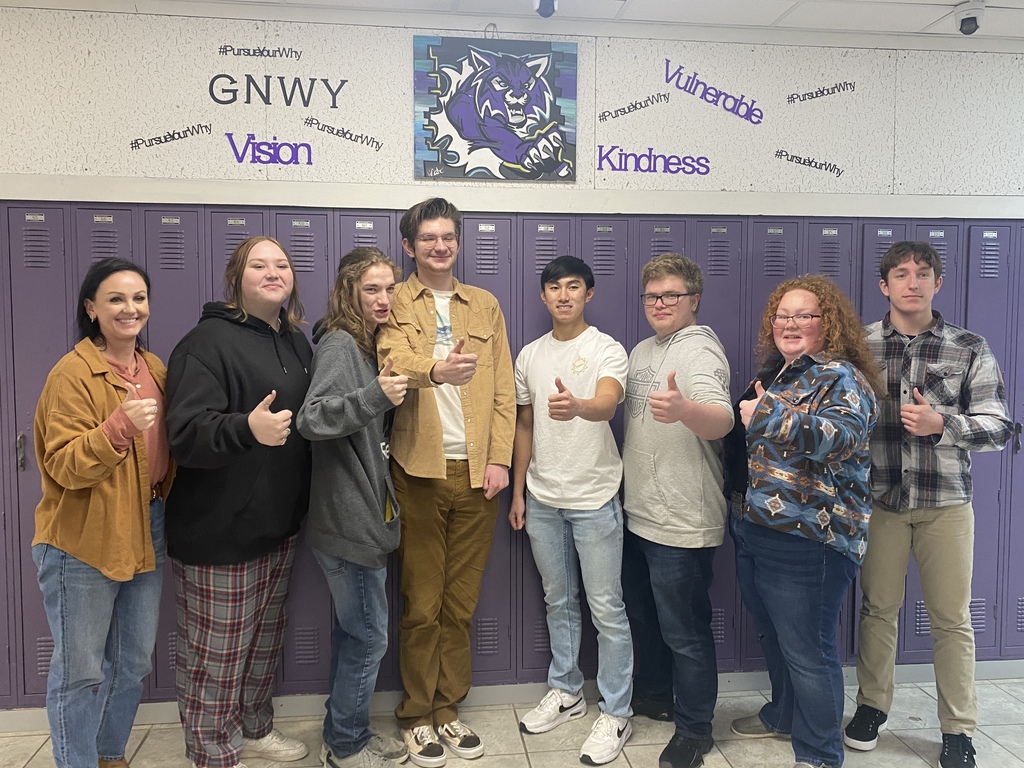 SANTA'S HELPERS! When help was needed for Jesus' s Toy Box, these students stepped forward to do whatever was needed. They helped sort and wrap gifts for 300 children who will now have a blessed Christmas. Thank you for your selfless service.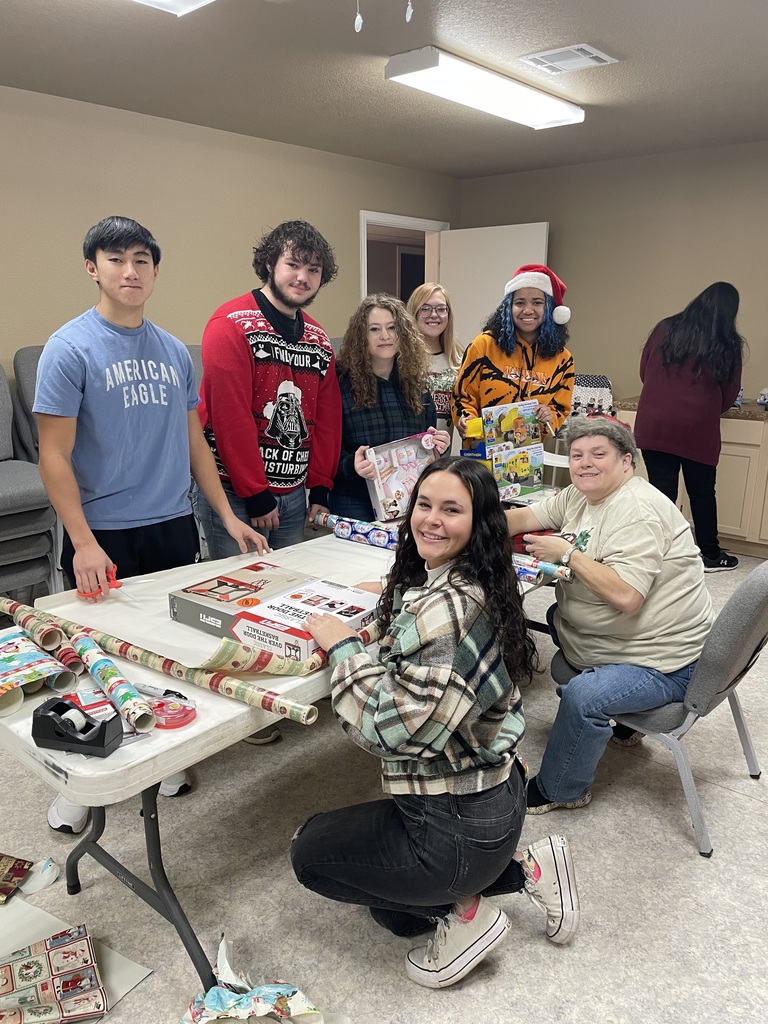 CONGRATULATIONS LADY CATS!! The Lady Cats are the ConsolationChamps of the Freedom Ford Shootout!!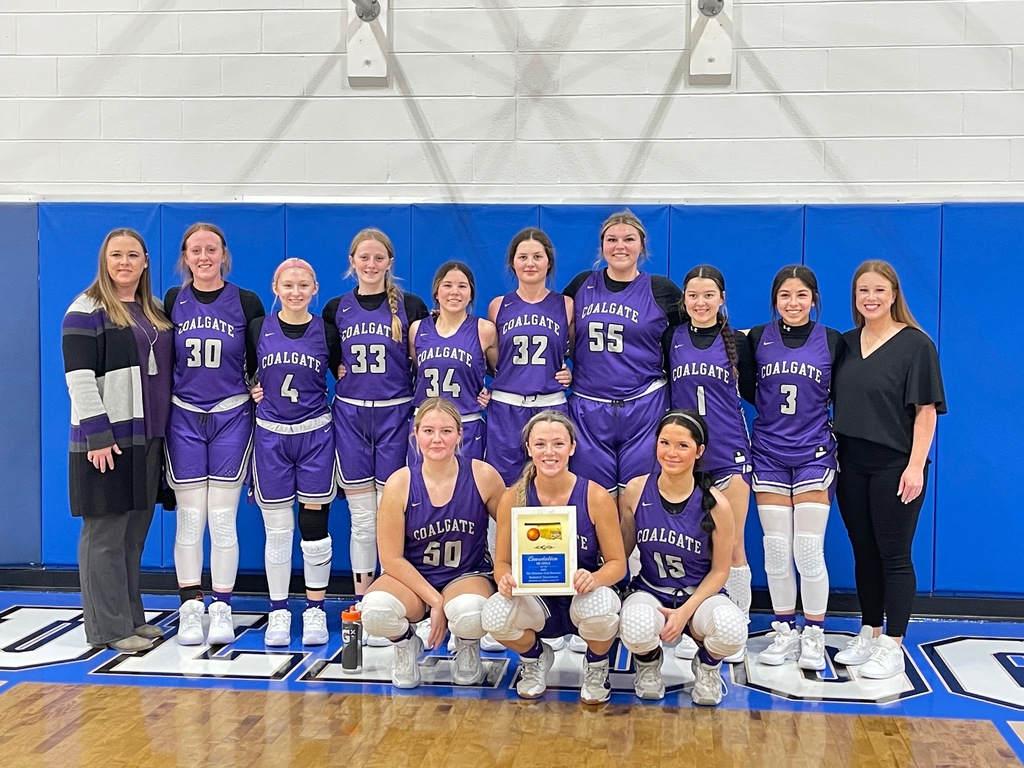 E.E. EMERSON: 3rd WIN IN A ROW!! E.E. Emerson Elementary Gifted & Talented class wins Keep Oklahoma Beautiful Uncapped Competition for the THIRD year in a row! Thank you to all who collect and save bottle caps for us. And thank you to everyone who voted for our project to make it to the finals!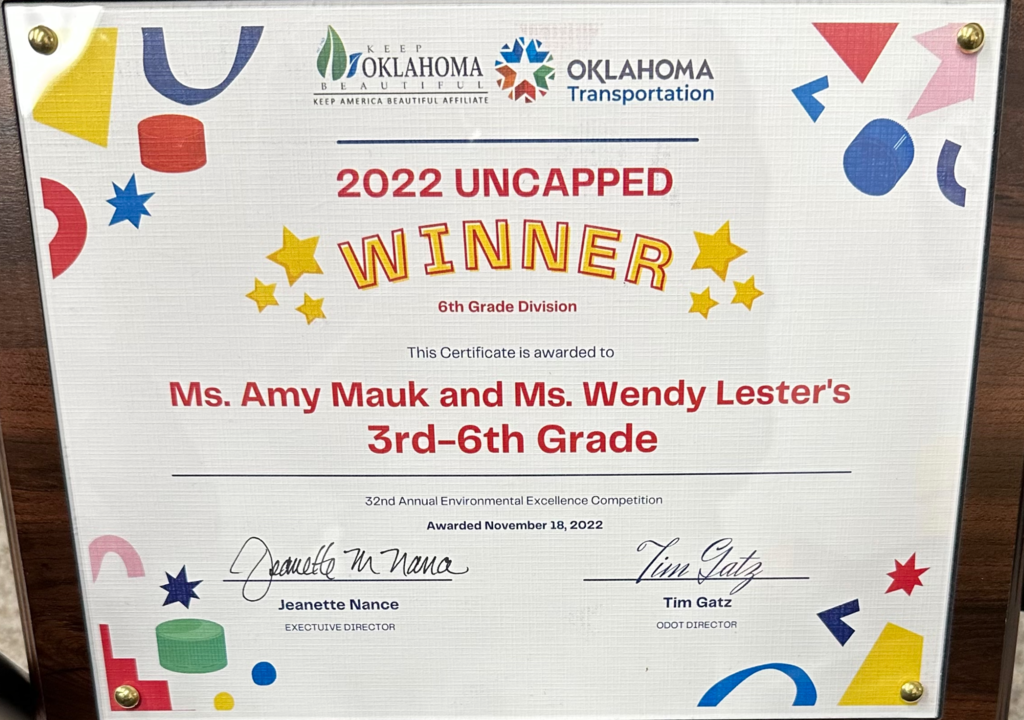 PICTURES WITH SANTA/BASKETBALL PICTURES This Thursday morning, December 1st, Santa is coming to Emerson Elementary. Students may have their pictures taken with an outdoor scene of your choosing. (Please see the flyers to match clothes to the scene. A newly added scene is attached). Please see both flyers for more information. You can order online or bring order to the school Thursday morning. To order online go to
www.shannaandco.com
and select "Order My Pictures" button. NOTE: Only those who have ordered online by 9AM on picture day OR bring their competed form with payment will be photographed. If sending payment with the student, please secure it in an envelope tight the student's name and grade on the outside. In addition, we will be having basketball pictures for 5th&6the grades, middle school, and hight school on Thursday, December 1. Order forms will be in the offices of elementary and middle schools. High school forms will be with the coaches. Students can pick up forms there. Santa pictures for elementary will be in the morning: basketball pictures will take place all day.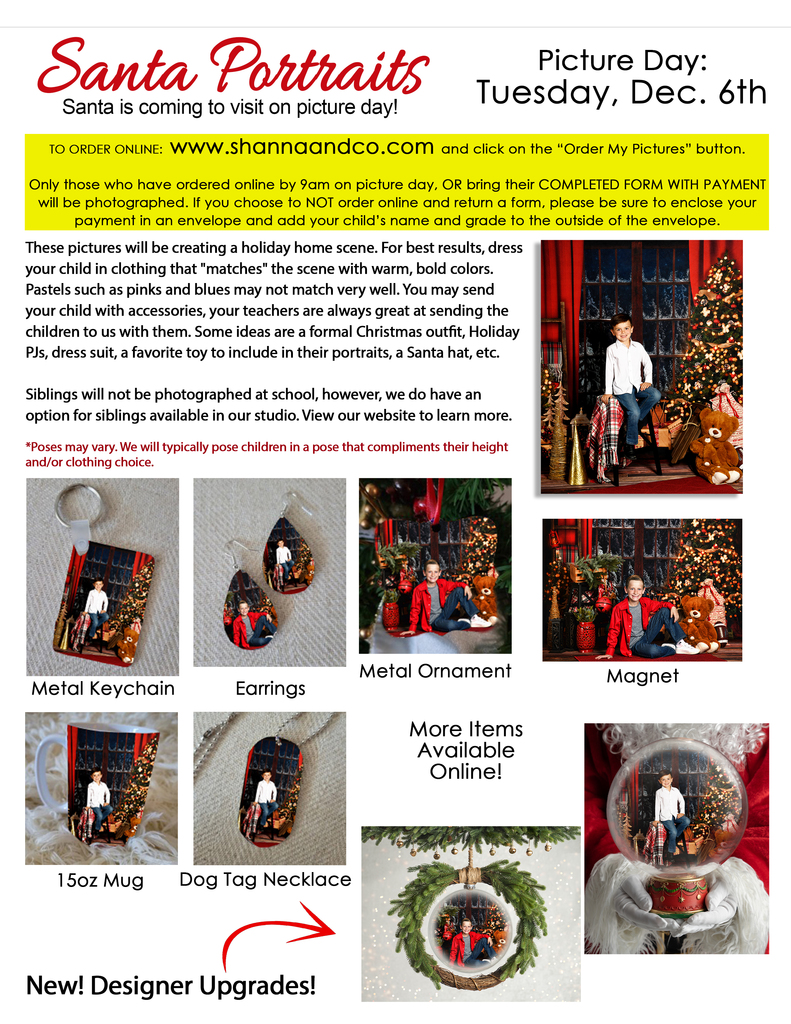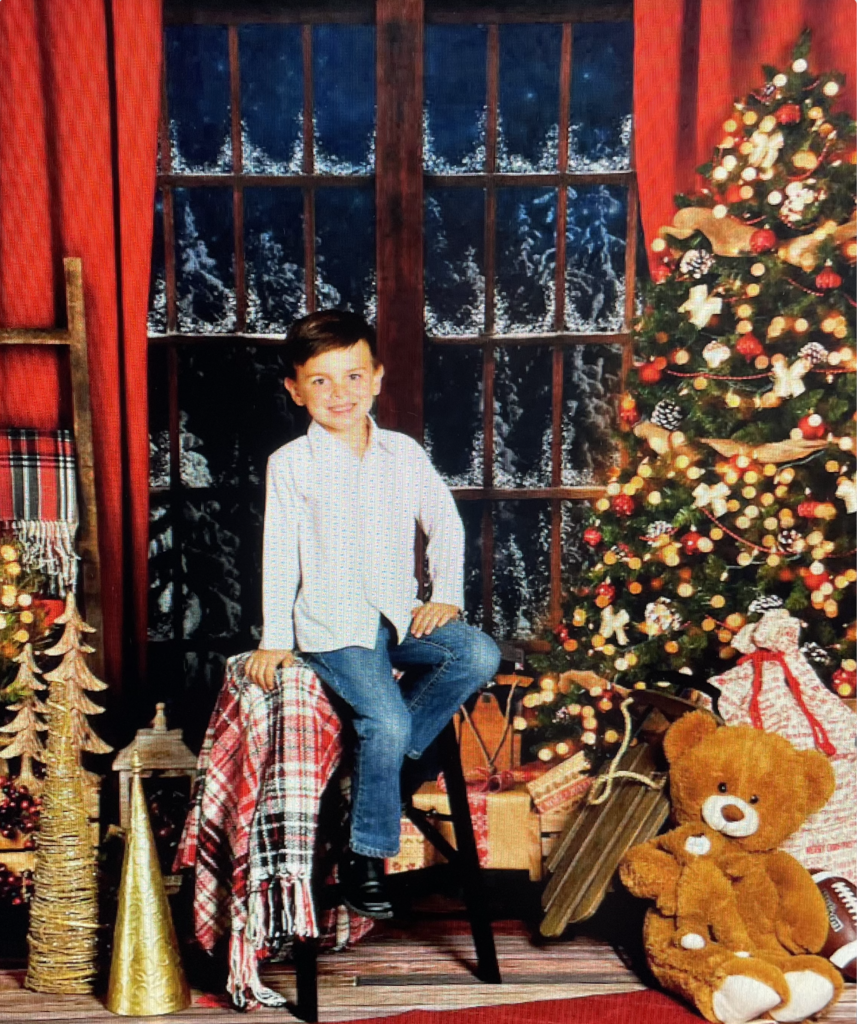 THANK YOU! Thank you just doesn't seem adequate for all the support we received this year for our 2022 Fall Festival. It is humbling to see the support of our administration, the teachers, students, parents, and community. Thank you so much to all the parents who contributed items for our gift baskets in the PreK through the third grade. The response was overwhelming; much more than we expected. We were more than grateful for all that you contributed. You were a large part of the success of the Bingo. Thank you to the parents who provided items for the cake walk. Those items made the cake walk a delectably delightful event. A very special thank you to all those listed below who provided prizes for the event. Our Fall Festival is not possible without the support of you the community. Thank you to the teachers, and staff who give of their time, donate prizes and money, to make this festival a success. You are such a great team! Most of all, thank you to all the people who came out and joined the fun. You are the reason this festival continues; you are the reason for its success! If anyone has been forgotten, please forgive us. It definitely is not intentional, and we really do appreciate you. Flower Garden Triple Heart Boutique Shamrock Bank C & C Hardware Stutteville Ford-Atoka Subway-Coalgate Sonic-Coalgate Sonny's Grocery Happy Hair & Nails First Bank Home Depot-Ada Mazzio's-Atoka Luigis-Atoka AmeriState Bank-Atoka First American Bank-Stonewall Farmers State Bank-Allen Tractor Supply-Atoka Orschelins-Ada Hill Top Dodge-Ada Fenton Ford-Ada Seth Wadley-Ada H & L Processing Nissan-Ada Coalgate Fuels Cedar Creations-Gary Meadows Daylight Donuts-Coalgate Charlie Rogers-McAlester Jennifer Horton Choctaw Nation Resort Taco Mayo-Atoka Daniel Express Lube-Atoka Subway-Atoka

ECU SCHOLASTIC MEET RESULTS Nineteen Coalgate students competed in the ECU Scholastic Contest.  5 of our students came home with new hardware. Laney Brown, 2nd Place, American Literature (2nd from left)) Peter Nguyen, 1st Place, Calculus (2nd from right) Raeleigh Madden, 2nd Place, Chemistry (middle) Jett Burris, 2nd Place, Geometry (far right) Peter Nguyen, 2nd Place, Shakespeare A.D. Mauk, 2nd Place, Trigonometry (far left)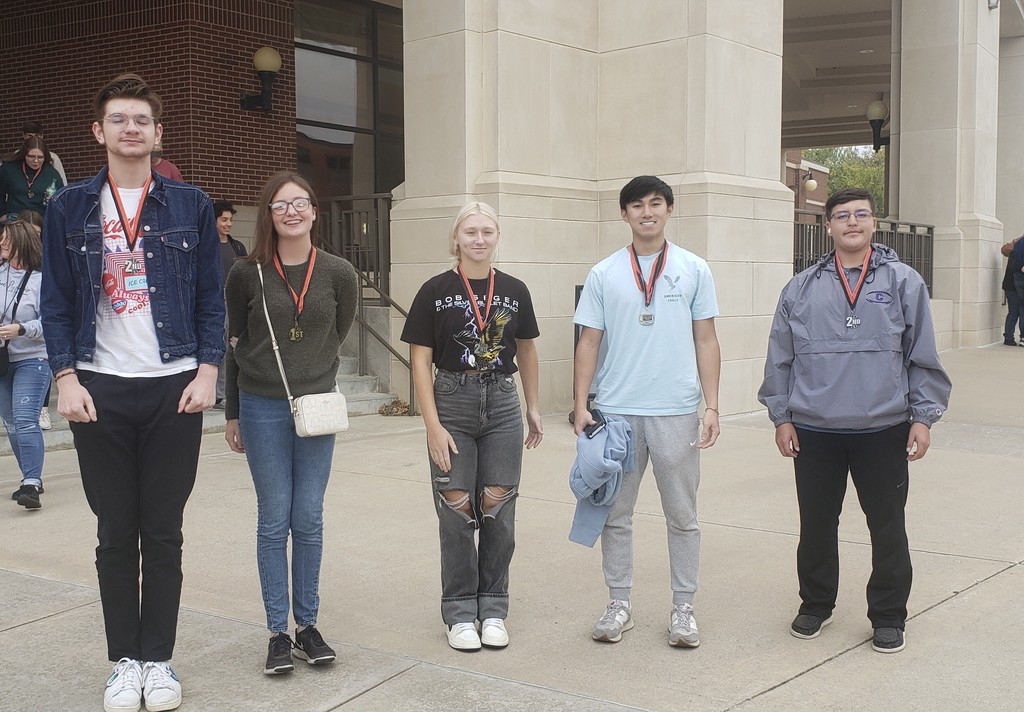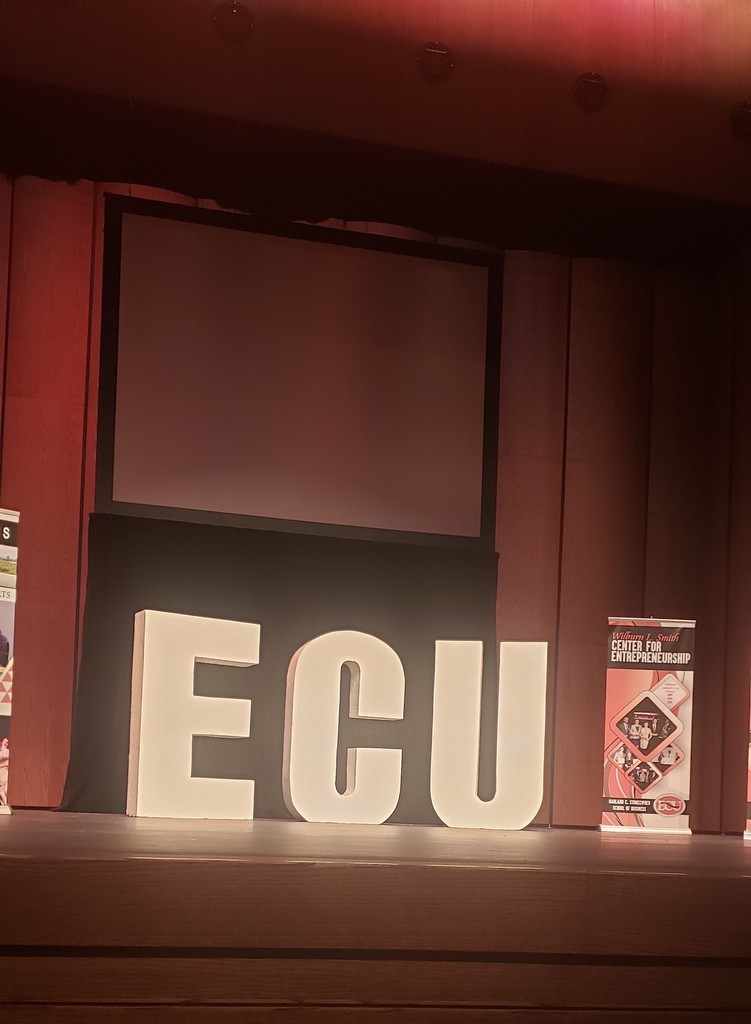 LIL CHEER CAMP UPDATE Due to the weather, we are postponing the Lil Cheer Camp performance once again. We will be holding the camp in the Coalgate Gymnasium Thursday, November 10th at 7:00. Please see flyer for more information.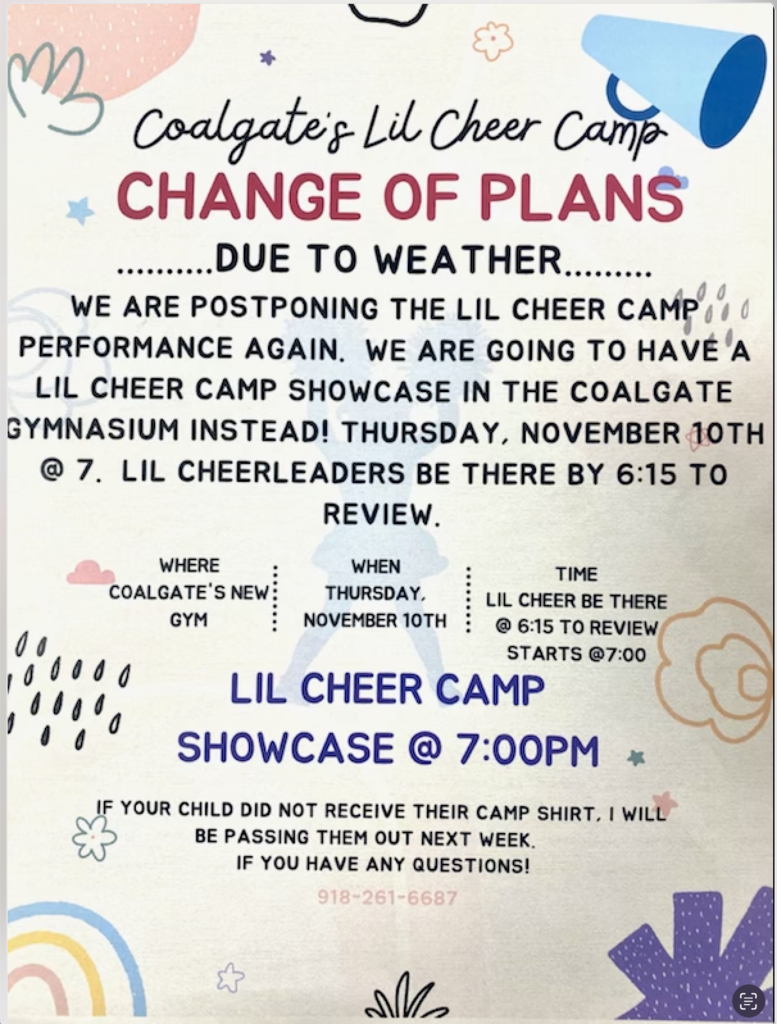 BUS DELAY Bus #10 the Wardville, Ashland, and Cottonwood bus is running late.

GEAR UP SURVEY The Gear Up program at Eastern Oklahoma State College is preparing to apply for a new grant cycle.  Parents, we need you to fill out the survey by clicking the link below. We would appreciate your help. Thank you. Link to the survey (You may have to copy and paste the address into your browser): .  bit.ly/3UdMAQA

UPDATE ON UNCAPPED COMPETITION: E. E. Emerson Elementary Gifted & Talented students have once again made the finals in the Keep Oklahoma Beautiful Uncapped Competition. There are three finalists and the winner will be announced at the 32nd Annual Environmental Excellence Celebration on November 18, 2022. A big THANK YOU to everyone who voted to help us make it to the finals!

BINGO & CAKE WALK & SILENT AUCTION Coalgate E. E. Emerson Elementary will be having a Bingo and cake walk. Proceeds go for class trips and activities. November 3, 2022 6:00-8:00 P.M. Linton Gym Sponsored by E.E. Emerson Elementary Staff

Lil' CHEER CAMP UPDATE Due to weather, we are going to postpone tonight's Lil' Cheer Camp halftime performances.  We will try one more time next Friday night. The letter below is the same one passed out yesterday and the info will still apply for next week.   See you all next Friday night, November 4th!

NEW DICTIONARIES The Rotary Club came to Emerson Elementary and gave dictionaries to all the 3rd grade.