Summer EBT Program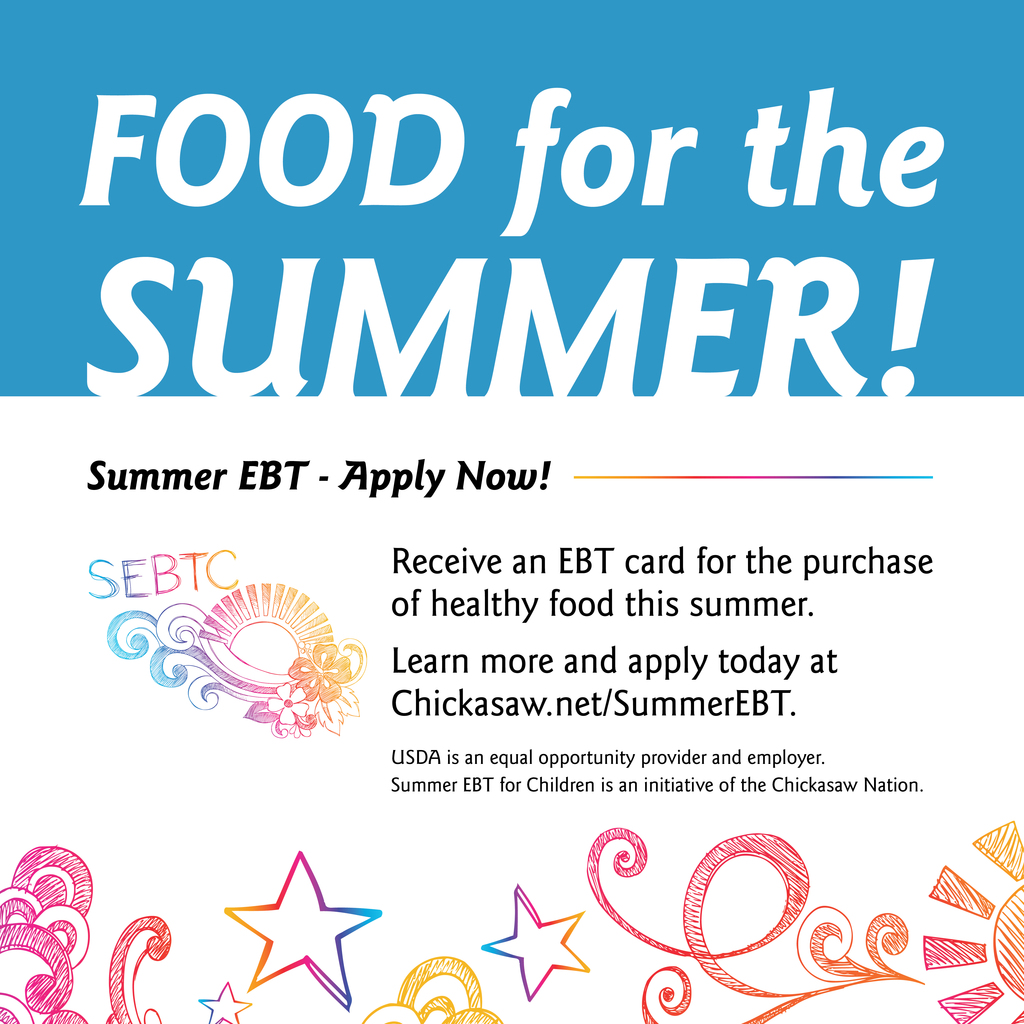 WEATHER NOTIFICATION Coalgate Schools: Due to approaching storms, School will be dismissed today at 3:00 p.m. Coalgate Schools: Coalgate Schools Safe Room will available if necessary
Coalgate Schools Safe Room will available if necessary

ATTN Middle School basketball parents: The yearbook needs your help! We are very low on basketball pictures for the yearbook. If you have any you would like to share, please email Mrs. McNutt at
smcnutt@coalgateschools.org
. Thank you.

REGIONAL TICKET INFORMATION Attention Wildcat Fans: To attend the regional games you must either purchase an e-ticket or cash will be accepted at the gate. The E-tickets are $8.35 ($7.00 plus $1.35) and cash tickets are $10. To purchase an e-ticket, visit
www.gofan.co
Click on "search schools," type in Coalgate to find the event and then it will prompt you to buy as many tickets as you want and to enter your credit card information. You may also use the QR code to access the go fan website. Make sure our gate workers can redeem these tickets. Screenshots/pictures of the ticket will not work. OSSAA Playoff passes and Media passes will be the only passes accepted. The remainder of the Regional Tournament will be held at Hartshorne Event Center on February 24th and 25th. For any further information, please feel free to contact our Athletic Director Nathan Hill at
nhill@coalgateschools.org
Go Wildcats!!

Special Thanks to FirstBank Thank you to John Denson, Loan Officer, Kelsey Ward, New Accounts and Katie Paredes, Human Resources/Payable from FirstBank for speaking to our Personal Finance Literacy classes and for the cool sunglasses! Thank you!

Summer EBT for Children!! Apply Now!! See the enclosed flyer for more information.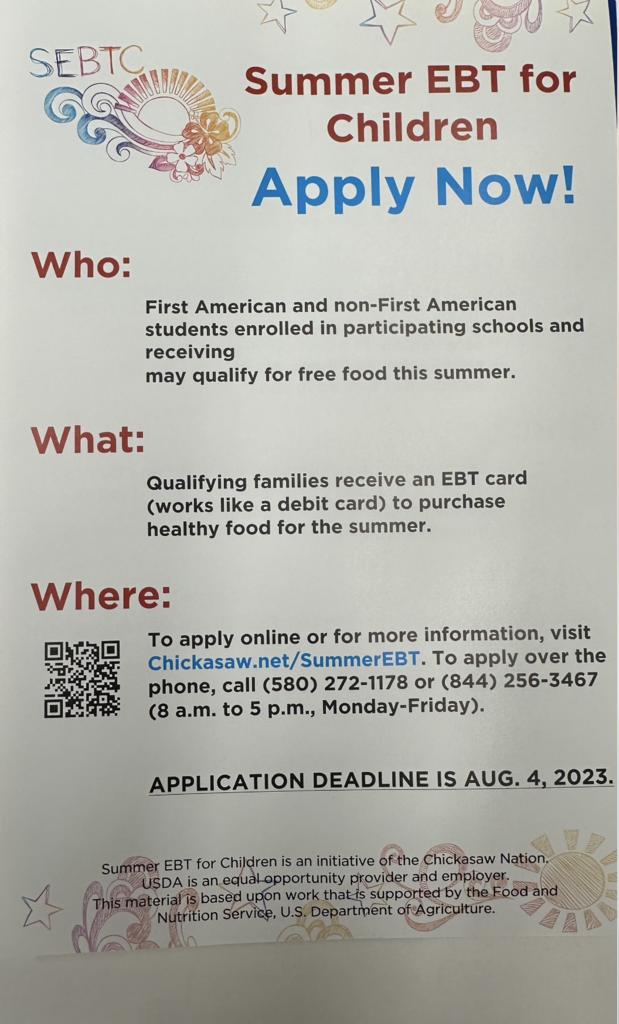 Blood drive today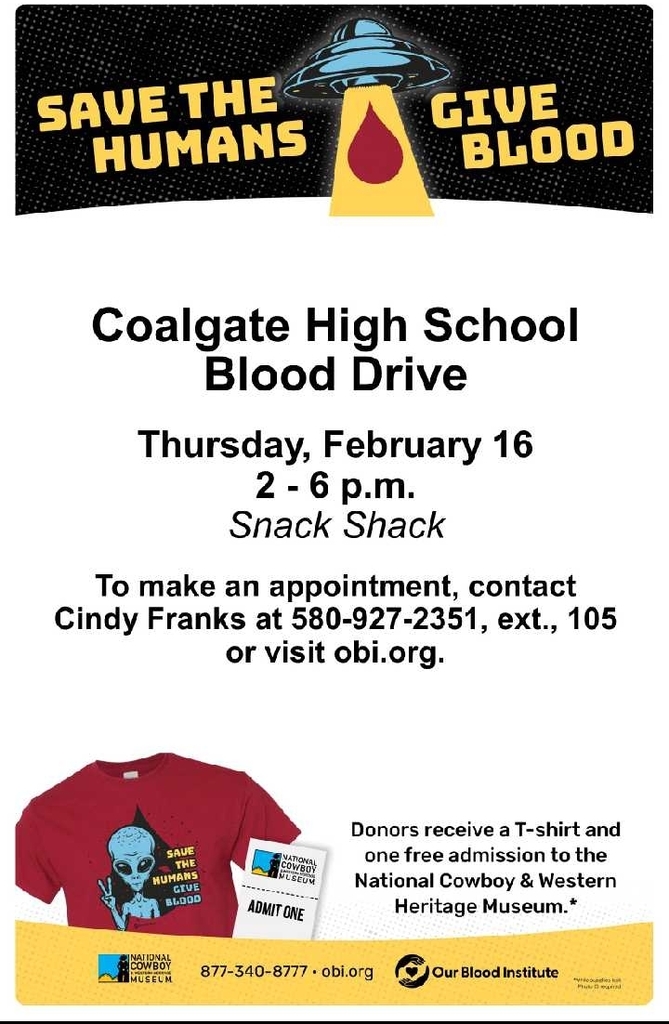 If anyone needs to take shelter from the approaching storms, Mr Ward has opened the school's cafeteria/safe room."

COALGATE BLOOD DRIVE Saturday, February 16, 2-6 P.M Snack Shack Contact Cindy Franks at 580-927-2351, ext 105 11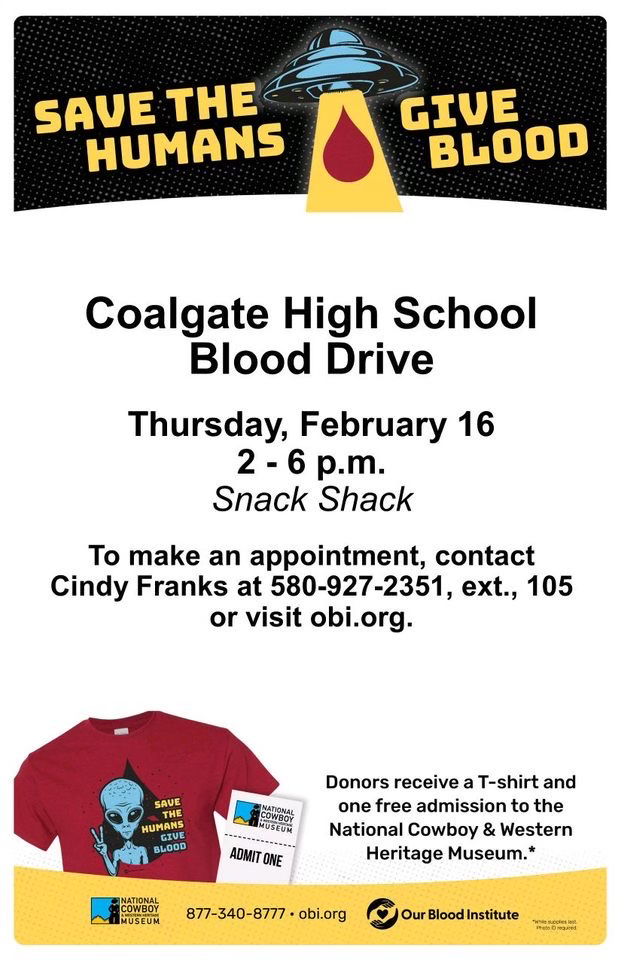 PARENT/TEACHER CONFERENCES "Coalgate Public Schools will be hosting parent-teacher conferences on Thursday, February 16th from 3:15 to 9:15. Parent-teacher conferences will be conducted in-person."

NEW SCHOOL SIGN COALATE SCHOOLS has new sign downtown to display announcements, even ts etc.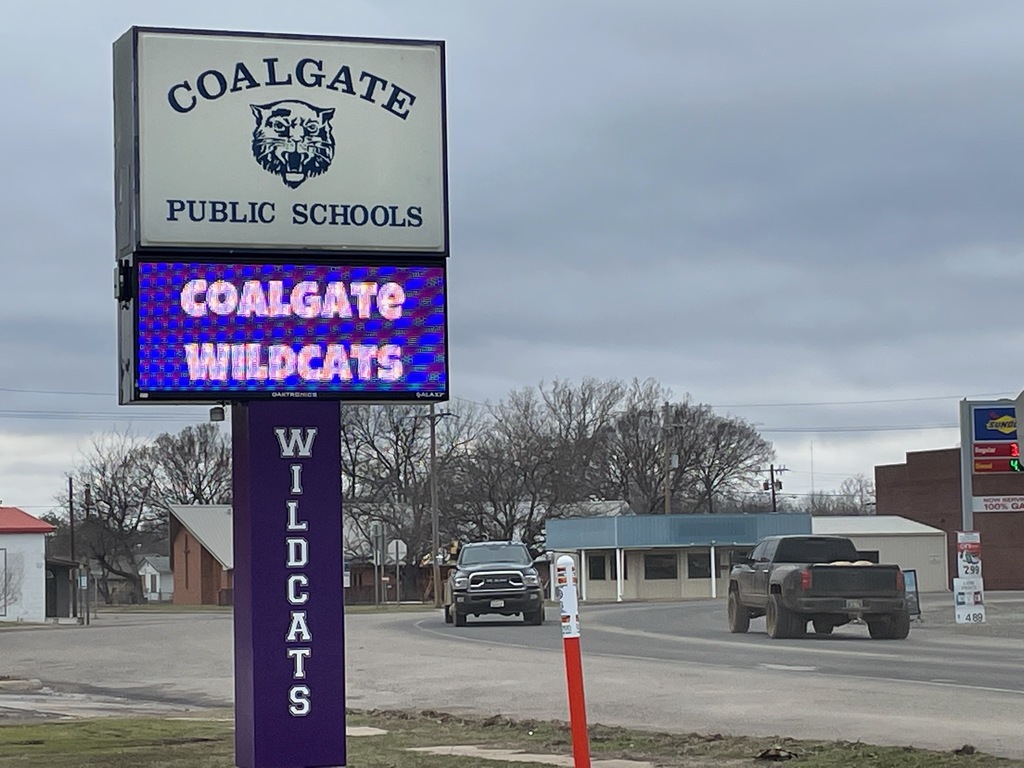 No after school choir practice today!!

February 7, 2022 Coalgate Public Schools' Parents and Guardians, Coalgate Public Schools will be accepting deliveries for Valentine's Day from parents and guardians on Friday, February 10th. For safety concerns, if your child rides the bus, please refrain from sending large balloons. Parents and guardians may make deliveries to the front door of their child's building. Thank you for your understanding and cooperation and for your support of Coalgate Public Schools Sincerely, Jack Ward Superintendent

PICTURE UPDATE Sports Pictures will be this Thursday, February 9.  The sports include powerlifting, MS and HS Track, MS and HS Baseball, MS and HS slow pitch softball, golf, along with E-sports, FFA officers, FCCLA officers and HS choir.  Order forms are at the HS and MS office or you can order online at shannaco.com. Class pictures will be Thursday, February 9. We will be doing proofing instead of order forms. The photographer  will take the pictures, come back and get them all fixed up, then send the proofs to go home within about a week. We will then give a deadline to order. Each student will have a personalized order form for their class picture that shows their class picture as well as what can be ordered.

COALGATE SCHOOLS UPDATE "Coalgate School will be in distance learning tomorrow, February 3rd. The homecoming basketball game tomorrow night will still be played."
"Due to hazardous road conditions, Coalgate School will be in distance learning tomorrow, February 3rd. The Homecoming basketball game will still be played tomorrow night."

POWER LIFTERS Will you post this to our page From Coach Hill: Powerlifters will not be going to the powerlifting meet on Friday, Feb. 3rd.

"Due to hazardous road conditions Coalgate Public School will be in distance learning tomorrow, Thursday, February 2nd. Please stay safe! Thank you!"
"Due to hazardous road conditions Coalgate Public School will be in distance learning Thursday, February 2nd."